The Association of Alumni of the German Academic Scholarship Foundation (Studienstiftung des Deutschen Volkes e.V.) with regional groups in Stuttgart/Tübingen and Freiburg, Heidelberg/Mannheim, Karlsruhe and Konstanz will be our guest from 8 to 10 November 2019 on the campus in Stuttgart-Vaihingen in order to hold their Autumn Academy called 'Academia Australis-Occidentalis'.
The Institute of Applied Analysis and Numerical Simulation and the Stuttgart Center for Simulation Science (SC SimTech) will be the hosts of the event.
The participants can expect a varied workshop-programme, informing about subjects as for example landscape gardening, mobility in transition, personal mental crises, the process of dying, death and grief work.
In addition, there will be two evening lectures on the subjects of data protection and the digitization of China.
Please have a closer look at the below mentioned website in order to get more detailed information: https://www.alumni-studienstiftung.org/aktuelles/
Should you have questions regarding the event, please contact Prof. Dr. Dominik Göddeke.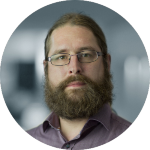 Dominik Göddeke
Prof. Dr. rer. nat.
Head of Institute and Head of Group